February 28.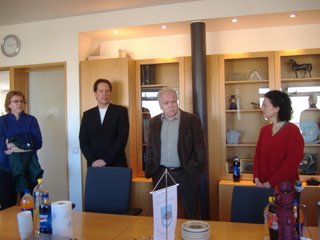 Since the meeting time was 9 o'clock, the members of the Hungarian team could sleep a bit longer. (Usually on schooldays we had to arrive at school at 8.) By 10.00 we had to go to the town hall to visit Albert, the mayor of Höfn. At first he greeted us, then he handed over some nice presents to each of us: a yellow fishing hat, a pen, a T-shirt, a CD( with the music of some local artists (eg.:Emil's father), and a badge. On our T-shirts there was a part of the lyrics of a song which Icelandic teachers and the MAYOR himself performed for us!!! Then we sang some ungarian songs, eg.: Tavaszi szél.
After this short visit we went to a farm to try Icelandic horse riding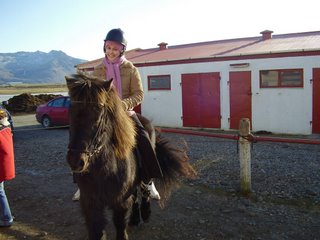 . We learnt some interesting things about the skills of this type of Northern horses (eg. that they are able to walk/run in 6 different ways), then we could experience some of them personally because we all had the opportunity to ride a horse. I think there hasn't anyone who didn't enjoy this programme despite of the strong wind and cold. Perhaps the only problem was that after this we went back to school immediately and our room smelled like a stable and so did we.
We ate our usual delicious lunch and then most of us went home to put on some warm clothes because in at 2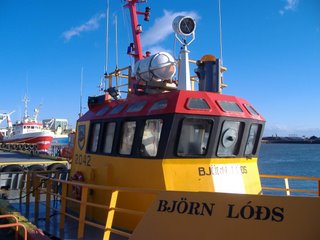 p.m. we went sailing. The weather was still freezing cold and very windy so it was quite an exciting trip. At the end we were a bit wet but it was worth it! In the evening some of us went to the local café but unfortunately we missed this meeting because after this tiring day Denis fell asleep and the others couldn't inform us to get there. But this was not the end of our day because at around 10p.m. Emil called us to go out with Virág and him to watch the beautiful northern lights. We couldn't see much since it had almost disappeared by the time we left but at least we went on a night sightseeing tour so I could know Höfn better.
Kata & Denis