National eTwinning Competition, Budapest Dec12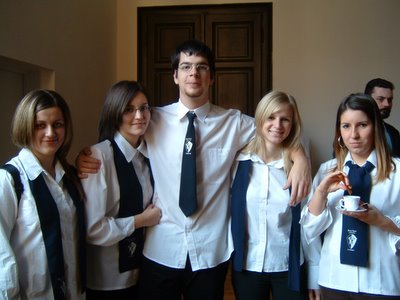 I'm going to tell you about yesterday. A few weeks ago the Water and Fire team got an invitation to Budapest, to take part in the first national eTwinning competition final. Six projects were invited; two primary and four secondary schools had 30 minutes each to summarise what kind of partnership they are in, and how far they have got with it.
Since the number of team member presenters was limited to five, and - quite naturally - evereyone was eager to go, we needed to draw the names of the lucky ones. So half of the team stayed at home and half got on a minibus in the morning , which took us to the venue. The team decided to share the tasks, and by last Friday we had a nice selection of visuals that helped the presenters: a nice poster - a timeline - with Viki's own illustrations, a poster about newspaper articles and TV news, another poster with a map and pictures of the places we visited together in October, and one more poster showing the ICT tools we use in our project. The boys also prepared a PPT, and the website was also there for everyone to see, or, at least this was the plan.
In fact, the internet connection suddenly broke down, and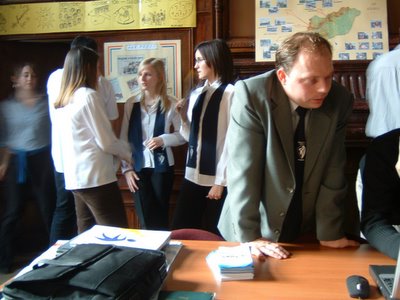 even the projector's fuse went out, right before we were supposed to start. An almost worst-case scenario, a-la Murphy. By the time the problems were fixed, the speeches of Kata, Zsófi, Mimi, Virág and Dani were over. Luckily both the audience and jury were understanding and patient, so we were able to show the electronic pieces and bits afterwards, in a sort of 'second go'.
After the last presentation we needed to wait for some time, and some team members got a bit nervous..., some other presentations were also very good.
Eventually, the Water and Fire team came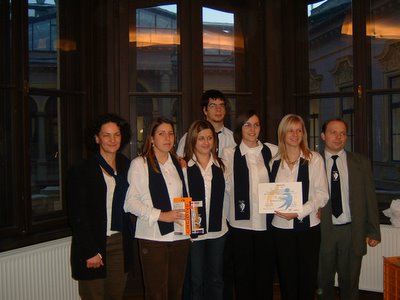 first, causing big smiles and cheering among the team members. Sms-es and phone calls were flying across the hall, and soon many in Zalaegerszeg - and probably in Iceland too, knew the good news.
We got home late at night, but happy that eTwinning Hungary rewarded us with an important sum of contribution to our visit to Höfn. I'm sure will make good use of it in February.