Saturday - October 22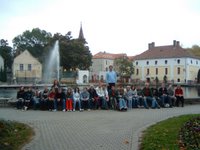 Usual morning routine with one exception: the Icelandic team is saying good bye to their host families today. We all meet at the bus station, with bags and sandwiches packed, and ready for our last two-day trip.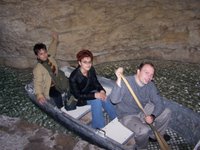 First stop: Tapolca, a town, close to the now known basalt witness hills, but offering a different geological sight: a cave that was formed in limestone. We take a boat trip in a 200 meters long passageway, which is easier to navigate without the oar but "climbing" rather, on our hands on the ceiling.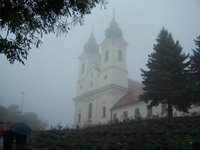 Our next stop is Tihany, a small village with a great view on the northern shore of Lake Balaton. We visit the Tihany Abbey, which was founded by András I in 1055. By the time we come out of the museum, it is so foggy and rainy that we do not only miss the nicest view on the lake, but even the nearby pier is lost in the mist. We remind each other: this is the first rainy day in October, we have been really lucky so far.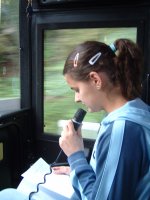 Another two hours drive and we arrive in Esztergom, a town located on the right bank of the Danube (the left bank of the river is already Slovakia). This is where St. Stephen was born, baptized and crowned (1000 AD). The first Hungarian church was built here, and Magyar tribes were Christianized from here.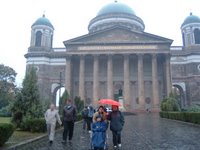 But our main reason to come here is of course the Basilica, the largest church in Hungary. The church itself is 118 meters long, the main dome is 100 meters tall. It is monumental, really, even for those who have already been here before. Someone is practising on the organ, which is also huge.
It only takes a short time to reach Visegrád, a historical place in the Danube Bend, where the river bends sharply to the south. We are already waited for in a Jeka student hostel. After dinner the team is ready to take a walk and explore the small town. At the local club and pizza place we can enjoy "and sing along" some well-known hits played by a great band from Esztergom. After a long day we are ready for a good sleep. Can it be true it's time to say good-bye tomorrow?...