February 19th
The iciest day in Iceland so far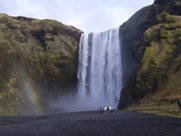 We woke up early, at 7 o?clock when Hjördís knocked ?quietly? on our doors at the hostel. It was very hard to wake up but we all knew that a great and exciting day was waiting for us. We had breakfast together: Icelandic butter, toast, cheerios with milk?etc.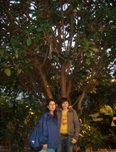 Then we got on the bus at about 8 o?clock, and it was still dark! From Reykjavík we drove to Hveragerði (where the Icelanders grow their ketchup, as Emil explained us before), where smoke comes out of the Earth and there are many greenhouses heated by geothermal water. After visiting the greenhouses we went to the Eden, which was exactly the opposite of what the Hungarians imagined Iceland to be?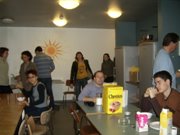 Our next stop was Skógafoss, which is a huge waterfall surrounded by beautiful and high mountains. The sun was shining and made a rainbow in front of the waterfall. We got under it and of course made a wish. The waterfall is 60 meters high and according to the legend there is a gold-case behind it.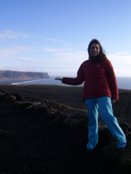 Then we drove to Iceland?s most southern point, Dyrhólaey, where we had to be very careful because ?if we fell down nobody could find us!? For the first time in our (the Hungarians) lives we saw the western side of the Atlantic Ocean! From there we could see Reynisdrangar very well, which are rocks standing like dwarfs from the ocean and as you can see Sara got that Kodak-moment when Mimi was holding the rocks in her hand.
From the bus then, on our way we saw the desert of black sand, and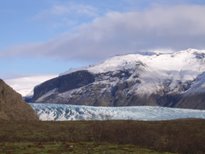 Iceland?s biggest volcano, Hekla, which has just erupted, in 2000, reforming the countryside.
Then the most amazing stop in our trip: The National Park ? Skaftafell. We walked to the glacier-tongue, and as we got closer and closer to it, it was becoming colder and colder?
This is part of Europe?s biggest glacier, Vatnajökull. This was formed in the Ice Age and has a greenish-bluish colour. We were very lucky with the weather, we could see everything, even the highest peak of Iceland, Hvannadalshnjúkur (2110 meters high).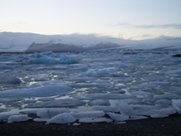 Now we were getting closer to home, but there was one stop left, Jökulsárlón. This is a glacier lagoon, which is always changing, this day the ice-blocks were quite low, sometimes they are much higher. Next to the lagoon it was cold again. There we took the Christmas-card picture 2006 of us, but you´re not going to see that here.:) We were there for half an hour but we had to leave because it was getting dark.
On our way to Höfn from Jökulsárlón we couldn?t see anything but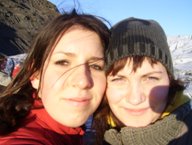 fog, but no problem because by this time we were very tired. Soon

we were in front of FAS (the school), and our families were waiting for us. They were all very nice. So we found our mom and we drove home which was a very long way, about 1 minute, along the ocean! We both got a rose, because it was women?s day. We packed out, then had a very delicious dinner together, chicken and salad and the typical Icelandic browned potatoes, which is potato with sugar. We both took a shower after the long day and because we had no power left, we went very early to bed.
Sara Tölgy & Mimi Björk