February 21. , Tuesday

We met at 8.30 in front of the school, and at 9.00 the whole school started its trip to Egilsstaðir, to another town in the Eastern part of the country. In every year, t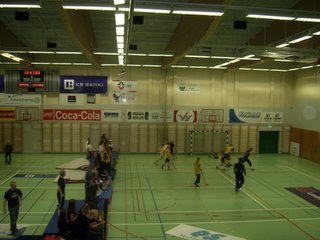 he three schools meet in one of their towns, where they compete against each other, taking part in several sports competitions. This year there were 4 teams, one was formed by the teachers (Katalin also took part in it), they had to fulfill different tasks, e.g.: Bandy, fitness, and ?dwarf throwing?.
The hosts took this little competition a little too seriously. Finally the hosts won, our team became third, and the team of teachers came to the fourth place. We also had lunch there, which consisted of several biscuits. At 5 o?clock we started our trip back to Höfn, and finally we arrived at 8.30. After this the partners went home.
Iza and Valdís