A day in the Icelandic forest
: February 26
After Saturday night fever Sunday seemed to be very hard to begin?
We met at 1pm in FAS, so in the morning everyone could sleep a bit longer than before. Then we climbed to a cliff on the sea shore to see some seals, which was the first time for almost all of us because in Hungary you can find seals only in the zoos.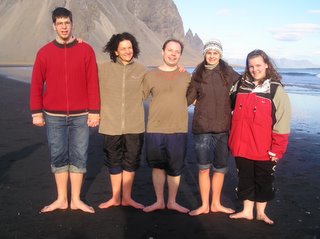 The trip continued on the beach -with the unique black sand- and because of the sunny weather many of us run into the water with bare feet. However it soon turned out, that they only could stay in for few minutes without freezing. :)
As next, we took a little walk in a valley with plenty of different types of rocks around. And, of course we found some challenge in jumping over the rivers- not always successfully though. T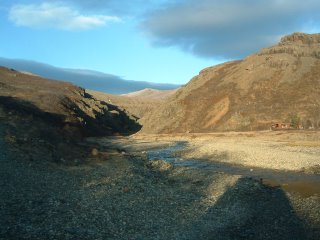 he surrounding mountains were also beautiful as the sun was shining on them. Then, we witnessed the enormous heights of the Icelandic forest surrounding a very nice lake. :) The cars we went by proved again how much they can stand the rocky roads among the mountains- of course, much more than our stomach?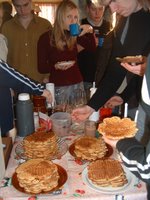 The trip was not so long but it was very good to have some delicious waffles and hot chocolate in a typical Icelandic summerhouse. Thanks to Siggi´s mother and grandparents and to Hjördis´ husband for them!
After spending a ?delicious time? in the summerhouse, we had to leave for home because it was getting dark quite early among the mountains.
In the evening, as usually almost every one of us went cruising in the town to see some northern lights- with more or less success :)And by the end of this enjoyable day we had again more experiences of the country :)
Virág and Emil