February 24th
We had to be in school at 9 am. In the morning everybody was busy with different things: the Icelandic students were working on their tasks with their groups and practising for the party which took place on Saturday; the Hungarians were prepairing for their presentation because they had to be ready by Monday.
At noon Auri (who is from Sri Lanka and teaches English and Spanish in Fas) invited the teachers for a typical Indian dish.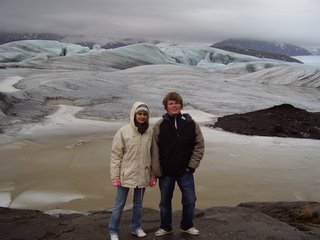 In the afternoon we went to a glacier called Hoffelsjökull which was nearby and can also be seen from the school. We travelled by cars and we had enough jeeps to be able to go through a little stream and many huge rocks. Finally we got there, and as soon as we got out of the cars, we started to climb down the slopes of the mountains to be nearer the glacier, which was not a usual one. It had a very strong blue colour. Besides this the weather was also nice because the U-shaped valley didn´t let the wind blow through.
After this amazing experience we went to a little stream, from which we could drink as well. But the way to the stream was quite difficult for those who climbed over the mountain. The others used the cars to get there.
Then our next stop was a little farm which was also not far. There the pe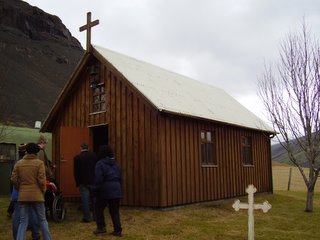 ople work with only horses. This farm (as many other in Iceland) is very developed because farmers use modern machines. There we had to face the wind as there was no mountain slope. On the farm there was also a little church (100 years old). Next to the church we saw a cemetry.
At the end of the day the waterfire team met at Emil´s house and we had a so called "karaokee evening", when we sang different songs from the 80´s and from our days´s music. Though we got home late, it was quite funny and we had a very good time together.

Saedis & Dóri