Saturday, 25th February
A day by the harbour and FAS annual festival.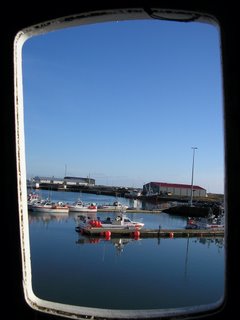 On Saturday after having lunch with our families we went down to the harbour (Höfnin) and explored a huge fishing boat. Sædís´s father, Valdi, who works on the boat, showed us around. We saw several high-tech equipments that are necessary for navigation and for locating the fish. Valdi also showed us how the fish was processed after being pulled into the ship. After discovering the ship we went to see an eel farm that is probably the first eel farm in the country. We also heard about an experiment they were making there. When we had finished checking out the eel farm we took a walk around the harbour-area. Seeing the ship, Akurey, that has been stranded in the bottom of the harbour, which is now used for some kind of decoration for the harbour and it is also used as a pub during the Lobster festival in July. Then, the Hungarian team was lucky to see a small boat landing the catch of the day. There th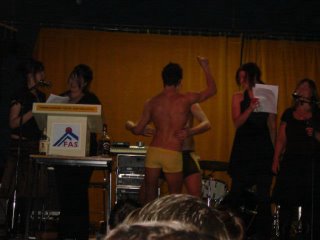 ey could see cod, catfish, haddock and redfish. After this time at the harbour in fantastic weather everyone went home and prepared for the evening.
Everyone showed up at The FAS annual festival between 7 and 8. The dinner then started at 8 o?clock and during the dinner there were entertaining scenes on the stage with singing, comedy and a chronicle of the year that had passed since the last annual festival. Half past ten, everyone in the waterfire team + a few guests went to Elvar`s house and had a great party with a lot of dancing and "magicjuice"-drinking. Around 1 o´clock everyone flocked to the dance which had already started in Sindrabær (the local socialclub). There, the dancing continued and everyone had a great time until late in the night.

Elvar and Zsófi