March 1, Wednesday - the land of salted fish and jökullhlaup
The Team met in front of the fish processing factory at 9am. This was an experience not only for the eye but also for the nose... We were shown around and had the chance to see where and how the catch - several tons a day - is processed. We learned that some of the main export destinations of the salted fish are great fishing nations themselves - e
.g. Portugal -, but the quality of the
fish is better here in Iceland. There are no salt mines in Iceland, therefore tons of salt must be imported for the salting of the fish. The Hungarians thought it's great to live by the ocean, and focus on the harvest but not really on the sowing, weeding, pruning, insect killing or the irrigation of the land. On the other hand, though, we think tractors are easier to drive on the plough land than fishing boats on the rough seas...


Later in the morning I visited a geology lesson at FAS. Hjördis had a PowerPoint presentation about volcanic rocks, and the students could see and examine real rock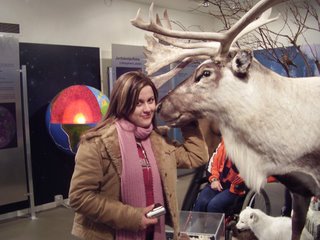 samples while they were listening or taking notes in their work sheets.
Our last program in Höfn was to visit the Glacial Exhibition, where there was a huge chunk of ice brought form one of the many glaciers in the region. We also saw a film about the famous subglacial volcanic eruption below the Vatnajökull.

The rest of the day was mostly shopping for food for the last two days, packing our luggage and, having the last evening conversation with our host families...
Fehoka

(Something was wrong with blogger so I couldn't upload all of the pictures here only this one... I'll try it later...)