Höfn í Hornafirði
Höfn is a small town situated on the south east corner of Iceland and is about 450 km away from Reykjavík. The population of Höfn is about 2200 people but in the area itself there are about 1700 people. Höfn is the second largest town in east corner of Ice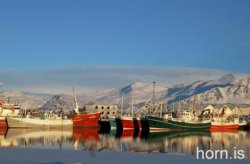 land, however people have been moving away from Höfn during the last years.
Höfn is a small fishing town and the main work available here is related to the fishing industry. It means both fishing out in the sea and and working in fish factories. Other public main work here are teaching, health service and services in shops, banks and hotels. There are 3 fish factories here, 2 small ones and one big, Skinney-Þinganes, Skinney is also the biggest fish factory in the east corner of Iceland. This factory employs a large number of people around here. All of these factories produce bacaloa (saltfish) and process lobster but only one of them, Skinney, process herring and capelin. There are about 10 big boats operating here and a number of smaller ones.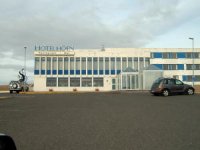 Annually a lot of tourist visit Höfn and many people have based their income on the tourist industry, especially during the summer. Tourists think that Höfn is a very beautiful place because of it's natural surroundings like the glacier, Vatnajökull, which is the biggest in Europe and the Glacier Lagoon Jökulsárlón, which has becoming very famous over the years. World famous movies like Batman: The Beginning, James Bond; Die Another Day and A wiev to a kill and Tomb Raider; Lara Croft have been shot in the area.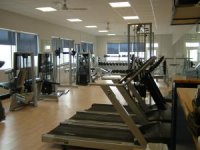 On Höfn there are 2 supermarkets and 3 shops, 2 cloth shops, one computer shop, 4 hairdressers, one gym, one flower shop, a golf course, 2 banks, 4 schools and a lot of other things. You can go to the movies like once a month if you are lucky. There is not very much social life here for kids of our age. Most of us spend our time playing computer games or driving around like maniacs, but on few occasions you can go to the movies and you can also play paint ball. On the weekends however there is a lot of social life within special groups, who like to have fun and meet other people at parties.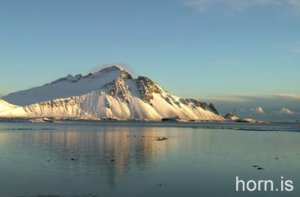 There is a festival held here once a year and it's called Humarhátíð (lobster festival) and then all the people in Höfn go out and have fun, with or without their children. During this a lot of outsiders come to Höfn and have fun. After this weekend there is a lot of trash but most think that it is worth it. We wouldn't be having it every summer if we didn't think so.
FAS
The school was formal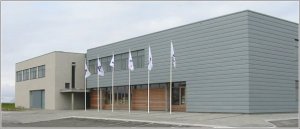 ly opened the year 1987 and then it was situated in Nesjahverfi (about 8 km from Höfn). In the year 2002 a new school building was opened here in Höfn. In the school there are about 70-100 students in the day school and there are over 100 students in distance-study programs now, who are mainly students in their third or fourth years. Our school here at Höfn is the only school in Iceland which teaches students to obtain a Captain's Licence as a distance-study learning. In the school are 10 teachers and they teach three different courses of study - Natural History, Sociology and Language Studies. The school is in collaboration with the library here in Höfn which is an excellent one. The school also works in collaboration with the Innovation center and the branch of the University of Iceland. In collaboration with the Innovation Centrex the school started to teach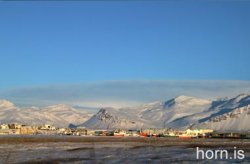 Entrepreneurship and after that many other school in Iceland have begun to teach this subject too.
Our school collaborates with others school in Iceland, the College in Egilsstaðir and the Vocational School in Neskaupsstaður. Among the facilities available at the school are wireless internet, a well equipped computer center for students and the availability of laptop computers for students, which they can use in classes if they don't have one and every class room there are overhead projectors and in built sound systems.
The school here plans all the studies connected to each subject on a 100 hours basis. That means that the studies every semester is connected to each subject includes 100 hours of teaching, homework, group work etc. However, students are given an opportunity to learn all what they have to complete within the school hours and so they have little homework to do in the evenings and at the weekends. Students can have lockers for their school books and most of the students in FAS use that facility. The social life in the school is alright. We have about two to-three dances each year, during the fresher's day and the annual festival. In addition we have a coffeehouse evening, a quiz show and now some of the students are participating in the musical Jesus Christ Superstar, which will be shown mid April.
Written by Hróðmar und Sædís