KÖLCSEY FERENC GRAMMAR SCHOOL ZALAEGERSZEG
A Brief History of the School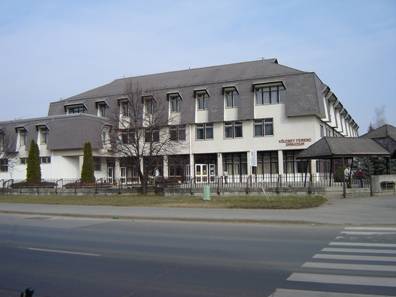 The predecessor of Kölcsey Ferenc Grammar School, the Teacher Training School was established in 1929. This Catholic institution was the first girls' school on secondary level in Zala County.
From 1955, the school also functioned as a grammar school for girls – with a classical side and with a group specializing in the sciences. Further changes brought about the start of the co-educational programme, and the number of new Year 9 groups was four in September 1960.
Because of the growing interest in foreign languages, the German specialization programme was introduced in 1984, and an English dual language programme was launched in 1988. After a five-year-long break, the English bilingual programme was restarted in 1997.
In addition to the traditional 4-year programmes, two 6-year classes started in 1990. Today one of these specializes in sciences, and the other is a German dual language programme. Both these programmes have lived up to expectations.
The Aim of Our School
The teaching staff of Kölcsey Grammar School considers as its primary aim to prepare its students for the school leaving examination and further studies. Besides these primary aims, students are prepared for their European Union citizenship as well as for life-long learning.
They need to be able to collect information independently, they need to be able to form their own knowledge-based opinions and make relevant decisions that are based on those opinions.
Our aim is to educate young people who have high standards for themselves and others, who are open to the world, and who apply the rules of social co-existence. In order to achieve these aims, we organize a variety of events, from presentations, quizzes and exhibitions to online projects.
Specifications of Kölcsey
Kölcsey Grammar School has been the location for German and English state language examinations since 1993. The number of examinees is around 1000-1200 annually.
We are a reference school of Nemzeti Tankönyvkiadó and Microsoft.
Due to the excellent athletics results in the Student Olympics of 1998, Kölcsey Grammar School was awarded with the title of 'A Secondary School Sports Workshop'
Also in 1998, Kölcsey was awarded with the title of 'A Model School for Environmental Protection'.
The environmental group of the school considers nature protection and hiking as its most relevant activities.
School Programmes and Student Life
While cherishing our traditions, we also try to broaden the scale of our special school events.
Our traditional programmes are the following: Student Week and Freshmen's Party in Autumn, St. Nicolas Day and Christmas celebration in December, the Ribbon Ceremony for the school leavers in February, the School Foundation Ball in February, School-leaving Ceremony in May, Sports Day in June.
Sports life is one of the specific features of Kölcsey Grammar School: students can take up athletics, basketball, volleyball, handball, aerobics or even orienteering. Several of our teams have got into regional or even national finals.
Year 7 students participate in the water camp at Lake Balaton after their first year at Kölcsey, while older students may attend the ski trips to Slovakia or Austria every January.
There is a wide range of special circles and clubs, and several diplomas have been awarded in different regional, national and even international competitions because of the outstanding results.
Two well-equipped computer rooms – each housing 18 multimedia PCs with Internet access – are available for students' extra-curricular activities and research.
Connections
Thanks to our various international connections, the students of Kölcsey can get to various places in Europe.
Students of German take part in a week-long exchange trip with Kusel, our German sister town near the French border.
Another sister town of Zalaegerszeg is Kuusamo in Finland.
A new relationship is forming with the Lendva Bilingual School in Slovenia.
Students of English can participate in study tours to Scotland or England.
For several years, the school has welcomed native English speakers from England (SOL – Services for Open Learning), and from the USA (CETP – Central European Teaching Programme, and the Fullbright Teachers' Exchange Programme). These contacts have helped tremendously with both students' and staff's awareness and usage of the English language.
Enrolment, Competitions and University Entrance Examinations
Outstanding results in different academic competitions, the high ratio of successful language examination takers, and several students who have earned international scholarships are all indicators of a successful and fruitful teaching and learning process and environment. More than 80% of the school leavers is accepted to colleges or universities.
You can visit our school at: www.Kfgz.sulinet.hu
Written by András