Zalaegerszeg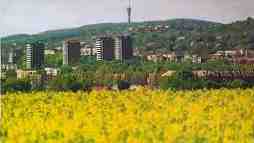 The town is situated in the western part of Hungary on the coast of the River Zala. It is the county seat of Zala County, which is among the most developed counties in the country. The region is called Göcsej, which is known for the thousands of hills that can be found here. It is a medium size settlement and has about 60,000 inhabitants. The town's origin goes back to the 13th century. The name Zalaegerszeg has evolved from distinctive features. ZALA is from the river, EGER is from the name of a typical tree of the region and SZEG refers to an abbreviated Hungarian word (closest English term is 'corner'). The town celebrated its 750th anniversary some years ago.
The people mostly work in the industrial sector. There are several furniture, meat and garment factories; lighting technology and an oil refinery. The County Hospital also employs about 2,000 people. Though the town is rather an industrial one, tourism is growing since thermal water was found some years ago in one of the outskirts. There are about 15 suburbs but the town is still growing. More and more houses are built and new service providers are appearing continuously.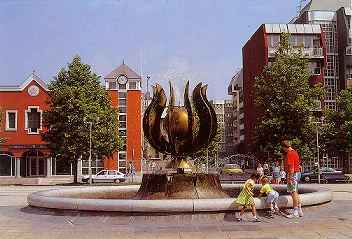 There are various educational establishments. Besides the several infant and primary schools there are 13 different secondary schools, 2 colleges, several language schools, a conservatory and a business school.
The cultural life of the town covers many different things. There are a lot of modern and traditionalist dance clubs and some of them are competitive even in World and European championships. There are many choirs and orchestras which often give concerts in Zalaegerszeg as well as elsewhere in the country. There is a popular theatre named after Hevessy Sándor, the first reformer of the Hungarian dramatic art. It has a permanent company and performs a great variety of plays every year. There is also a puppet theatre and an art cinema. These operate in the building of the old cinema which is less popular since there is a bigger multiplex one with four rooms. There are many museums in which various exhibitions can be seen permanently. Zalaegerszeg gives place for the town and county libraries which have huge catalogues of books, discs and video cassettes. In the town centre there is also the County Archive.
There are many sports facilities and sports clubs in the town. The football (ZTE) and basketball team (ZTE KK) are the most popular but there are also professional bowling, tennis, chess, athletics, shooting, wrestler, table tennis, judo, karate, handball, volleyball, fencing, swimming, weight-lifter, rider and archer clubs. There is also a sports complex, a big stadium, an ice hall and a sports hall.
Apart from the large concrete buildings there are several nice parks in the town and some forests around it.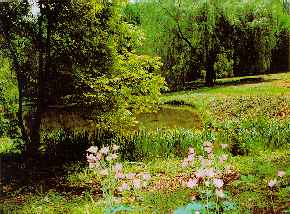 Written by: Zsófi