Friday - October 21st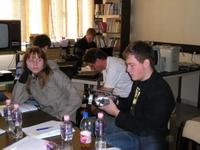 Friday the 22nd was the last day in Zalaegerszeg.
It started as usual, but we had only three lessons in the school, because the students were to go to the cinema to see a film commemorating the 1956 revolution of the Hungarians against the USSR-troops.
The Icelandic team didn't go with them. They were very busy because they had to finalise their work on the web.
They got their final lunch at 10.45 at the cantine in the school.
Before saying good bye to the school they wrote some words about their staying in Hungary into the guestbook of the school and they signed it.
The teams were free in the afternoon but they decided to meet each other in the evening. Some went shopping for souvenirs for their parents and friends.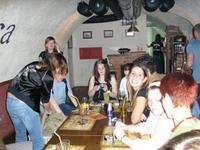 In the evening the two teams met in one of the clubs in Zalaegerszeg called Mama Afrika.
They enjoyed themselves as usual.
After the meeting everybody went home to do the packing. They couldn't forget that the following morning they would have to say good bye to their hostparents.
Laci